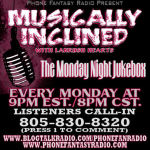 MUSICALLY INCLINED: Who's On Fleek?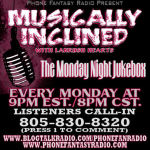 ON THE NEXT LIVE BROADCAST:
Tune in Monday 5/4 at 9pm est. to Musically Inclined on Phone Fantasy Radio. Join hostess Lakrush Hearts for the Monday night jukebox we'll be playing good music from yesterday, today, and tomorrow while asking "Who's On Fleek?" We want to hear your good news thus far. Birthday, Anniversary, Job Promotion, New Hair-Do, "You Got Some & It Was Good"… whatever, Call us live at 805-830-8320 (Press 1 To Speak) or join us in the chatroom. Let us help your celebrate your good news.
LISTEN, COMMENT & CHAT BY PHONE 805-830-8320 | CLICK HERE TO LISTEN!!!
READ MORE
via Phone Fantasy Radio We ~R~ Controversial Sexiness At It's Finest